Accreditation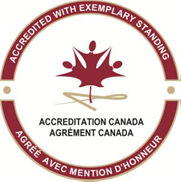 Westgrove Clinic is very excited to announce that the clinic has passed a very in depth patient safety and quality improvement program with Accreditation Canada. This was done November 2013.
What does this mean? For the physicians and staff, there are process and safety standards in place, to allow us to provide the best care possible to our patients. For you, our patients, this means Westgrove has set high standards to provide you with quality care. Now that we have achieved accreditation, Accreditation Canada will continue to monitor and assess our practice to ensure we maintain the education and standards we have worked hard to develop. Up to this point, we have focused on medication reconciliation and patient safety.
Westgrove Clinic is very pleased to announce that on October 27-29th, 2014 we completed the Qmentum process. This is the second level of Accreditation. We are very proud that our dedication to patient safety and quality improvement has led us to being successful in being accredited with Accreditation Canada. This is a huge accomplishment for Westgrove, as very few family practices have achieved this in Canada. Accreditation is usually a large facility based requirement.
Westgrove Clinic is accredited with exemplary standing.